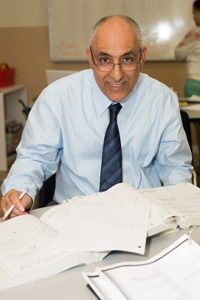 "As the owner and director of Infinite Edge Learning Center for Academic Excellence, my top priority is to uphold the superior quality of our instruction, as well as, maintain the support students receive from our tutors and staff. The mission of Infinite Edge Learning Center, Inc., at Tampa Palms is to empower each student to maximize his/her fullest academic potential through highly accurate assessment and focused achievement development. Every student is given the opportunity to excel beyond his/her current educational level of performance."
-Sohbat Jabbari
MISSION
The mission of Infinite Edge Learning Center, Inc., at Tampa Palms is to empower each student to maximize his/her fullest academic potential through highly accurate assessment and focused achievement development. Every student is given the opportunity to excel beyond his/her current educational level of performance.
OBJECTIVES
Determine student's academic strength and challenges via assessment.
Establish a grade equivalency and standardized score to pinpoint areas requiring improvement or intervention.
Design an individualized, student-based learning intervention strategy or curriculum of instruction. Continuously assess and reassess progress to maximize achievement as well as retention and comprehension of academic knowledge.